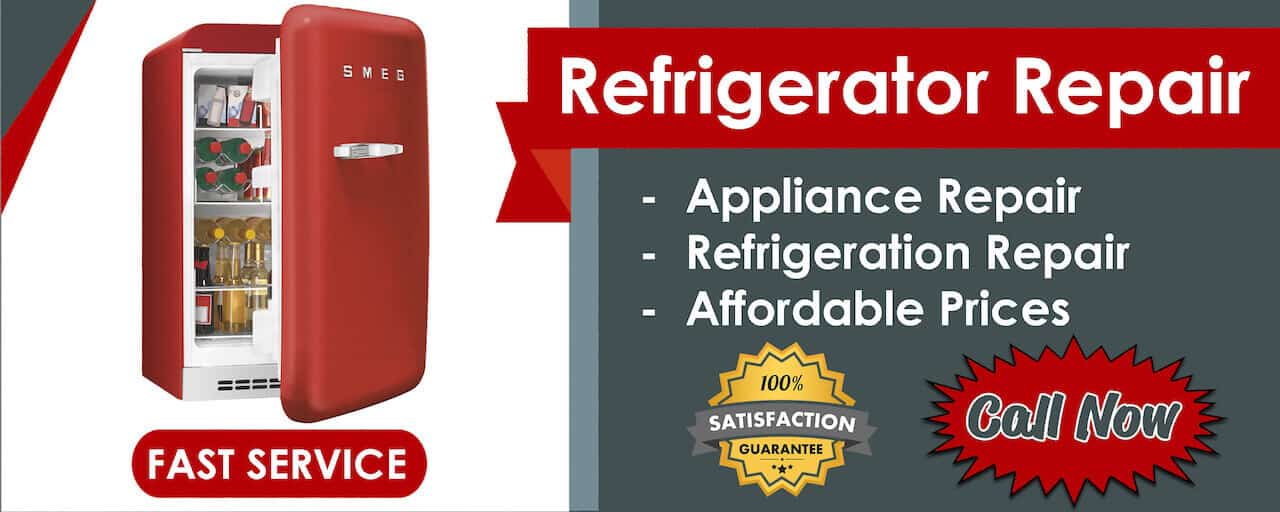 Your refrigerator is an essential element of your kitchen. You use it to keep all of your dairy, produce, and meats cold. A broken refrigerator means thawed or melted food which has to be thrown away. Who wants to throw away perfectly good food? So, it is important to call about refrigerator problems right away! You will want to call an appliance repair service that provides same-day service for freezer and refrigerator repair (learn more).
You have made the right choice when you call Waukegan Appliance Repair. We are able to repair any common refrigerator problem the same day you call and on the first appointment. We work quickly so your refrigerator or freezer is working again and so none of the food goes bad.
CALL TODAY: (847) 495-7764
REFRIGERATOR PROBLEMS
LOUD/CONSTANT NOISES
We receive the most calls for help because of loud refrigerator noises than from any other freezer or fridge issue. The most common reasons for a noise coming from your refrigerator are problems with the evaporator fan motor or condenser fan motor. If you can, try to tell us where the noise comes from when you call. Then we can be sure to bring the right tools and parts for this repair the issue.
WATER LEAKS
As your local appliance repairman, we fix lots of refrigerator leaks. These are caused by problems with the door closure or latch or by a broken water inlet valve. We carry the parts necessary for this repair in our service vans and can fix it right away.
WON'T START
When your refrigerator will not start the first thing to do is check that it is plugged in and the circuit breaker is on. The second thing is to call us for a same-day service call. When this happens you usually have a broken compressor overload relay or temperature control malfunction. We diagnose and repair this problem on all major refrigerator brands and models.
ICE MAKER WON'T MAKE ICE
We routinely fix ice makers that do not make ice. The typical problems are broken water fill tubes, a broken water inlet valve or a temperature control malfunction in the freezer. This issue is fixable on a short visit the same day that you call us for help
FRIDGE TOO COLD/TOO WARM
When your refrigerator runs too cold or too warm, there is a problem. Too-warm refrigerators usually have a broken air inlet damper. Too-cold refrigerators typically have a malfunction of the thermistor or temperature control. The same problems occur in freezers as well as refrigerators. We deal with these issues on the spot, the same day that your schedule your service call.
BROKEN WATER DISPENSER
Water dispensers rarely break down on GE, Kenmore, Sears, Whirlpool, Sub-Zero and other major brands of refrigerators. But, when they do, it is a broken water inlet valve or dispenser actuator. We carry parts for this issue just in case and it is a quick fix as soon as we arrive at your home.
DOOR LATCH/BULB PROBLEMS
When you have condensation or leaking issues with your refrigerator, call us right away. If you do not the end result is a higher electric bill because your refrigerator is working harder than it has to and spoiled food as the cold leaks out of the fridge. We will check the door closure, door latch, seals, gaskets, and hinges to determine the problem and fix it on the spot. And, when we notice that the bulb is broken or just burned out, we will fix that too!